Our Multi-Purpose Business Software
Excelpoint is a new breed of multi-purpose business software that allows systems to be configured right in front of you in real time.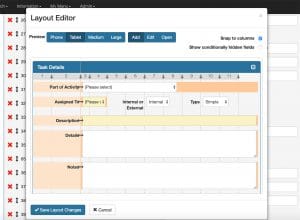 Makes Complex Tasks Simple
With Excelpoint you can rapidly develop virtually any business application. The software provides everything that you'll need to develop large-scale applications with automation driven by your business processes, and workflow that spans enterprise-wide.
Scales Effortlessly
Whether you need three users or three hundred or more, Excelpoint scales effortlessly as your business grows. You can manage, process and store business information in one convenient place, with secure and permission-based access to enterprise-wide data.
Systems Integration
Systems integration can be straightforward too, with Excelpoint serving either as a 'bridge' to join multiple systems or as the host to present information from multiple data sets in one view.
Supports Flexible Working
In addition to a modern web-based interface which works in all common browsers across desktop, tablet and mobile, Excelpoint automatically generates a suite of mobile apps for iOS, Android and Windows Phone. This means that your workforce can use Excelpoint applications wherever and whenever they need to.
Read More About Features Book A Demo