Excelpoint Version 3.4 Release Notes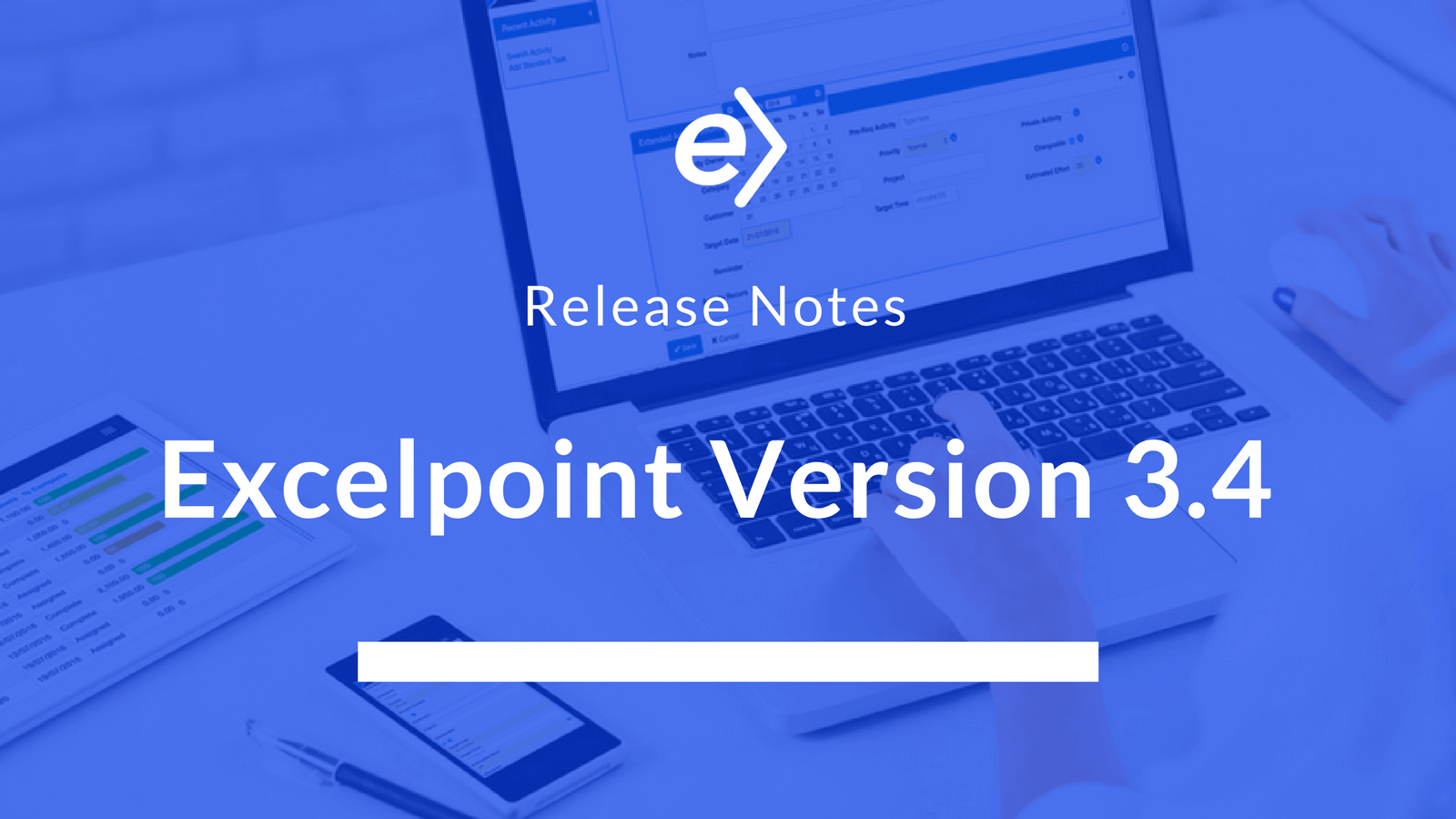 The latest version of our software, Excelpoint Version 3.4 is now available for our existing and future clients, discover the new features and functionality we have included.
Excelpoint Version 3.4 will now be the version used as the standard version for all new customers. Our existing customers with a support contract can upgrade to this version of our software free of charge.
Excelpoint Version 3.4 New End-User Focused Features
Excelpoint users can now further refine the Search Results screen directly from the results they are viewing. Refining results can be combined with re-sorting, paging and selecting visible fields, all via a simple and intuitive interface this speeds up the job of drilling down further within existing searches.

A new Global Search capability is available from the main menu bar this facility allows end users to search across all information stored in our database and breaks this down by the number of results for each Information Type. The user can then drill through to a particular area of interest.

A new option has been added that subject to user permissions, allows the end user to add new items to a Lookup List Item type directly from the Add and Edit screens.

Excelpoint now supports the output of PDFs from a variety of document types, including HTML, Microsoft Word, Excel.
Screen Section Validation has been added that allows Error and Warning messages for an entire screen section, in addition to the current validation mechanism for individual fields.
Two-factor authentication is available via SMS text message, strengthening security over and above simple password-based logins when required.
Excelpoint 3.4 Additional Integrations
We now provide an interface to Companies House so that business processes can use publicly available information about companies they are dealing with. As with our other third party integrations, Companies House information can be used seamlessly in the same way as regular Excelpoint items, alongside our data and information from other systems.

A new Eventbrite plug-in is available to read, create and manage events via the popular public event platform. Events can be set up and managed within Excelpoint as part of a wider business process, or we can show Eventbrite events and related data, such as attendees, in conjunction with other information.
Excelpoint 3.4 New Administration Capabilities
New administrator 'assistance options' have been added. These allow administrators to temporarily switch on useful extra information throughout the system via simple check boxes. The assistance information is only visible to the administrator and not to other users:
Show all hidden fields and screen sections
Show field ids
Show layout column boundaries
We now allow preview of a particular Item in Layout editor to better represent what an end user will see while editing screen layouts.
Process Variables "PROCESS_INPUT" and "STEP_INPUT" can now be used in a Generate Definitions this allows administrators to more easily create processes which generate new Excelpoint Items based on a combination of user input and business logic.
Documents attached to items can now be deleted as part of an automated business process with a new Delete Attachment activity.
It is now possible to disable all Admin functions on a Live Server to prevent even admin level staff from tampering with released systems.
In the Update Item activity, fields to be updated can now be selected via expressions this greatly simplifies some processes and allows array/matrix style updates of multiple fields.
The minimum or the maximum number of Child Items which must belong to a parent item can now be specified. Maximum and minimum values can be expressions based on other fields, allowing the administrator detailed control over the number of items which must exist in a parent-child relationship.
For Generate Item definitions, Filters can now be used as conditions as well as Processes. In turn, this enables the Generate Item functionality in stand-alone mobile apps on iOS, Android, and Windows Mobile.
Support for Active Directory users being members of multiple Active Directory groups has been added. Permissions from various groups are merged on the sign on.
If you're an existing customer and you would like to upgrade to Excelpoint Version 3.4, get in touch with us today. If you are not currently using Excelpoint and would like to see our new functionality in action, you can contact us to arrange a no-obligation online or in person demo.