Case Study Synopsis
Automated appointment management
In the field job re-assignment via handheld devices
Staging of jobs from requested to completed
Automated customer text reminders
Post-installation data and questionnaire capture
In-built dashboards and reporting
Ability to work in the field offline with synchronisation
Cenergist
Cenergist is a specialist in energy and water efficiency. The company has two divisions – energy and water. Energy is the larger division of the company focused on clients with end-of-life gas, oil, or electric heating and hot water systems. The group provides turnkey retrofit district or communal heating systems based on high-efficiency gas or ground/air source heat pump solutions that support Net Zero and decarbonisation goals.
The water division is a growing service offering focused on water efficiency upgrades for utilities and commercial clients, including hotels and care homes.
The activities in both divisions are underpinned by the company's wholly-owned intellectual property, the Control Flow HL2024 family of products which reduce water wastage and improve the performance of heating and hot water systems.
Cenergist's digital journey
Cenergist's digital journey started in 2020, working with an incumbent third-party software supplier on a bespoke solution to overcome challenges in the management of its field-based engineers. By July 2022, the system was still not live but in the early stages of testing. Two years of bespoke development had delivered a solution that met only basic requirements and the realisation that future changes would mean code changes even for the simplest of requests.
With despondent staff, the recruitment of a Director of Information Technology (DIT) saw the introduction of a viable solution prioritised and the decision to walk away from the bespoke solution due to its simplicity, inflexibility, and inability to work offline.
With an extensive experience with other no-code platforms, the DIT immediately took Cenergist down the route of a no-code solution knowing the solution would be delivered in weeks, not months, and have the ability to meet the requirements of the business.
After engaging with Excelpoint, the DIT was amazed at the capabilities of the product, especially when compared with his previous no-code experiences.
Building a no-code solution in weeks
To prove our capabilities, Cenergist challenged Excelpoint with a proof-of-concept project. Six days later, a solution was delivered that exceeded Cenergist's expectations.
Following in-depth product demonstrations and interactive sessions, Cenergist redesigned the scope of its specification to incorporate all its requirements and wish lists into one.
From initial discussions in August 2022, the new no-code system went live in October 2022.
The system has automated the field-based engineer business processes and workflows for the installation of water-regulating devices. It has replaced paper and Excel spreadsheet-driven processes, which required engineers to update an Excel spreadsheet on a tablet and upload the information to SharePoint. Historically, each evening office-based staff would manually update a central Excel spreadsheet with the information from each engineer, which meant transposing data and a risk of errors, and creating an inefficient and costly process.
The Excelpoint no-code solution has enabled:-
Automatic generation of appointment notifications
The staging of jobs from requested, assigned, booked, and completed
The ability to text customers on the morning of the appointment to remind them of their appointment
Team leaders, who are closer to the job and have a clear view of logistics, can now assign jobs on a tablet out in the field and adapt workloads based on absenteeism, geography, and availability
The capture of post-installation data, including water flow measurement and post-installation questionnaires featuring open and closed-ended questions
Evening work has ceased, and these individuals are now able to focus on the role they were employed to do
The production of detailed dashboards and reports with no third-party tools required
Greater insight into workloads, productivity, and field staff performance
Efficient operations, improved team performance, and cost savings
The ability to rapidly develop or reconfigure the solution to facilitate change or growth
Best-practice and compliant processes
Enhanced employee satisfaction and customer experience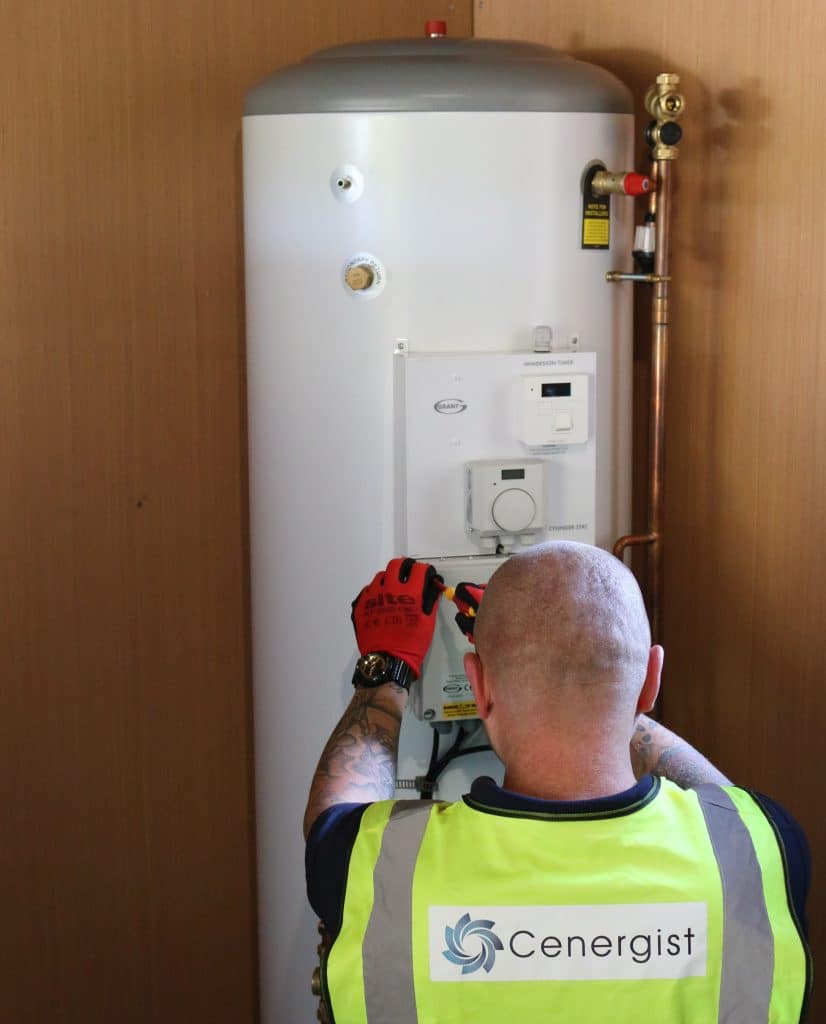 Early into the rollout of the new solution, Cenergist realised that Cumbria offered poor signal and engineers were required to work offline. Due to responsiveness and product functionality that can auto-generate an offline native mobile app, Excelpoint enabled engineers to work offline and synchronise within a week.
By the end of November 2022, over 1,000 completed jobs had been processed via the system, and from October to December 2022, iterative development took place, with changes initially out of scope being able to be built into the solution.
By January 2023, the no-code solution was operational across all projects, and by the end of that month, Cenergist had processed 2,000 jobs, with 1,500 jobs per month expected throughout 2023.
No-code evolves across Cenergist
Inflexible systems no longer constrain Cenergist. The team has embraced no-code as a strategic solution and plans to embed it enterprise-wide to deliver solutions to its challenges.
In the coming months, Cenergist plans to:-
Provide clients with access to the system for self-service and access to reporting
Replace a paper-based system to audit resident's water and heating requirements
Digitalise the daily checks, maintenance, and faults for its drilling business area with plans to automate the equipment checking process, timesheets, and borehole records
Build commercial logic currently within Excel spreadsheets into Excelpoint to standardise and simplify the pricing of contracts
Testimonial
"We never had the vision to be self-sufficient – we are not software developers. We wanted a solution where we were not beholding to every change. What has become apparent is we can make iterative changes ourselves. Through training, we have built the confidence to configure the solution and have the security that Excelpoint Consultants are available and can turn around requests in hours. Never was there a request that proved to be a showstopper." Director of Information Technology Cenergist